Tire Alignment

$69.99

Rotate & Balance

$39.99

Coolant Flush

$69.99

Fuel System Service

$89.99

Conventional Oil Change

$39.99
Customer Reviews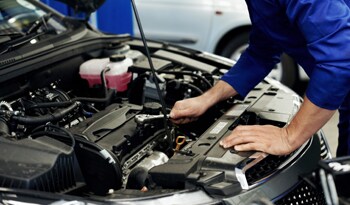 Why Service at Plaza Land Rover St. Louis
We know that you have a choice when it comes to choosing an automative repair shop, which is why we go the extra mile to provide you with exceptional customer service and high-quality repairs. All of our technicians are certified and trained to work on all makes and models that we sell. This puts us in the unique position of being able to offer the most effective and efficient repairs for all vehicle repair needs.
Serving
St. Louis

,

Kansas City

, MO &

Peoria

, IL

Serving the residents of Creve Coeur, Missouri, is what we do best. We know the specific needs of vehicles that operate in the local climate, and we can make recommendations to help you keep your vehicle running smoothly. Our dealership places a priority on the providing customers with quality service. We want all of our customers to have the best experience possible, and we're certain we can provide service that only a dealership can offer.

Our technicians are adept at all manner of auto repair service. Whether you need a basic oil change, tires replaced or a transmission repaired, we have the tools and experience to repair your vehicle properly. Our technicians go the extra mile, and perform a complete multi-point inspection to insure that no issue goes undiagnosed. We can provide quotes on all of our repairs, and our technicians double-check all of their work to provide the best service possible.
Automotive Service
When it comes time to get your vehicle repaired, it's important to make sure you get only quality original equipment manufacturer (OEM) parts. Especially when it comes to collision repairs, using aftermarket parts may result in a reduced ability to absorb impacts in the even of another accident. Aftermarket parts may not have the same capabilities and crumple zones that the OEM parts have. Many repair shops guarantee their service, but they may not tell you what type of parts they are using to repair your vehicle.
OEM parts can typically only be bought from the dealership. This makes choosing our dealership the best option for getting OEM parts quickly and affordably. Since the quality of aftermarket parts isn't always the same, it's best to trust your repair to only certified technicians that use certified parts. OEM parts work exactly like the original parts that came with your vehicle. This is important to ensure the longevity and quality of your car.