New 2016 Land Rover Range Rover Sport SUV St. Louis | New Range Rover Sport| 2016 Range Rover Sport For Sale
The 2016 Land Rover Range Rover sport is best described as a Luxury SUV offering every need of off-road prowess that a driver could want. Providing balance of power and efficiency with a super charged V-6 engine pushing 340hp is controlled by an automatic eight-speed and four wheel drive. Giving you power in every drive while maintaining its posh character.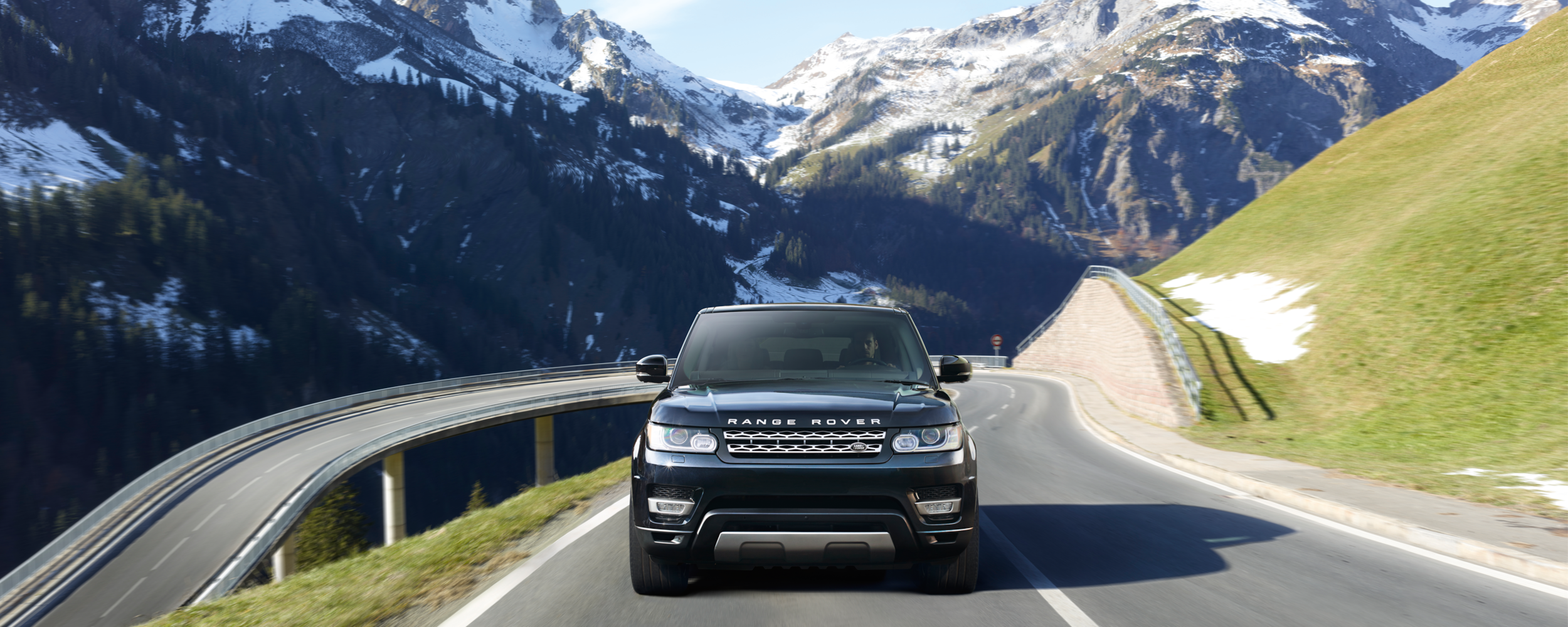 New Range Rover Power | Range Rover Power and Performance
Sit comfortably and know that you are in control through every turn with Torque Vectoring. Designed to be more responsive during the tight bends and cornering with improved grip and and under steer. Torque Vectoring allows the Range Rover Sport to maintain consistent speed by distributing engine torque through all four wheels using the the vehicle's brake system and electronic differential. Adaptive Dynamics instantly reacts to the the driver or road inputs by monitoring the vehicle's movements over 500 times per second. This minimizes body roll, and maximizing control for a more tranquil ride. Exceptional comfort and performance on and off road is delivered through the next generation Four Corner Electronic Air Suspension. This air suspension system will switch between two different ride heights automatically when in the off road mode setting. The Range Rover Sport is revered as the most responsive, fastest and  agile Land Rover yet. The handling and road performance delivers confidence in every drive.
Range Rover Capability and Luxury Performance | Luxury SUV in St. Louis
With more than just the historic look and feel of the Land Rover build, the Range Sport delivers exceptional performance in the areas of beyond and equally at home on the streets of the city. Boasting it's all terrain expertise though Terrain Response® technology the Range Rover Sport can be optimized for the current conditions giving you the optimal performance in off-road and on-road environments alike. It's been tested in the most unfavorable temperatures and terrain, which is why the Range Rover Sport is able to perform in the most difficult of conditions. Each condition is met with a Four Wheel Drive system that is beyond intelligent in enabling optimum on- and off- road performance. The Range Rover Sport is more than capable of handling the road or terrain ahead, regardless of the condition. 
New Range Rover Interior Command and Comfort | Range Rover in St. Louis
The sophisticated features of the Land Rover Range Rover comes from the classic engineering and design of Land Rover in UK. It's presence is felt through beautiful proportions and muscular curves that shows off it's contemporary features. The sculpted corners and gentle curves express the precision that is only seen in a Land Rover. The interior is fitted with a cockpit created for a distraction-free and intuitive drive. With an angled control layout and Sports Command Driving Position, an ultimate sense of control and confidence is enabled during any drive. Comfort for you and your passenger it's felt through meticulously fashioned interior design. This comfortable yet purposeful space is appealing to the most obsessive eye for detail. Command and style in every trip is guaranteed. 
Range Rover Sport Dealer | New Land Rover Range Rover Sport Dealership | Range Rover Sport for Sale in St. Louis
Looking for a new 2016 Land Rover Range Rover Sport in the St. Louis area? Find it here at Plaza Land Rover St. Louis. We are proud to serve customers in Creve Coeur, North County, St. Louis, MO and it's surrounding cities. Schedule an appointment to test drive the new 2016 Range Rover Sport today.
Sorry, no items matching your request were found.
Reset Search
Hours
Monday

9am-6pm

Tuesday

9am-6pm

Wednesday

9am-6pm

Thursday

9am-6pm

Friday

9am-6pm

Saturday

9am-5pm

Sunday

Closed